Fancy 10% OFF Your First Box? Use Code TREATME10 (T&Cs apply)
Say hello to not only 2021, but our incredible 'Refresh' January Box. Everything you'll need to recharge, relax and feel mentally prepared for the new year ahead with a new set of pyjamas, pampering products and a sweet treat! 
VALUE £60! You pay from only £24.99.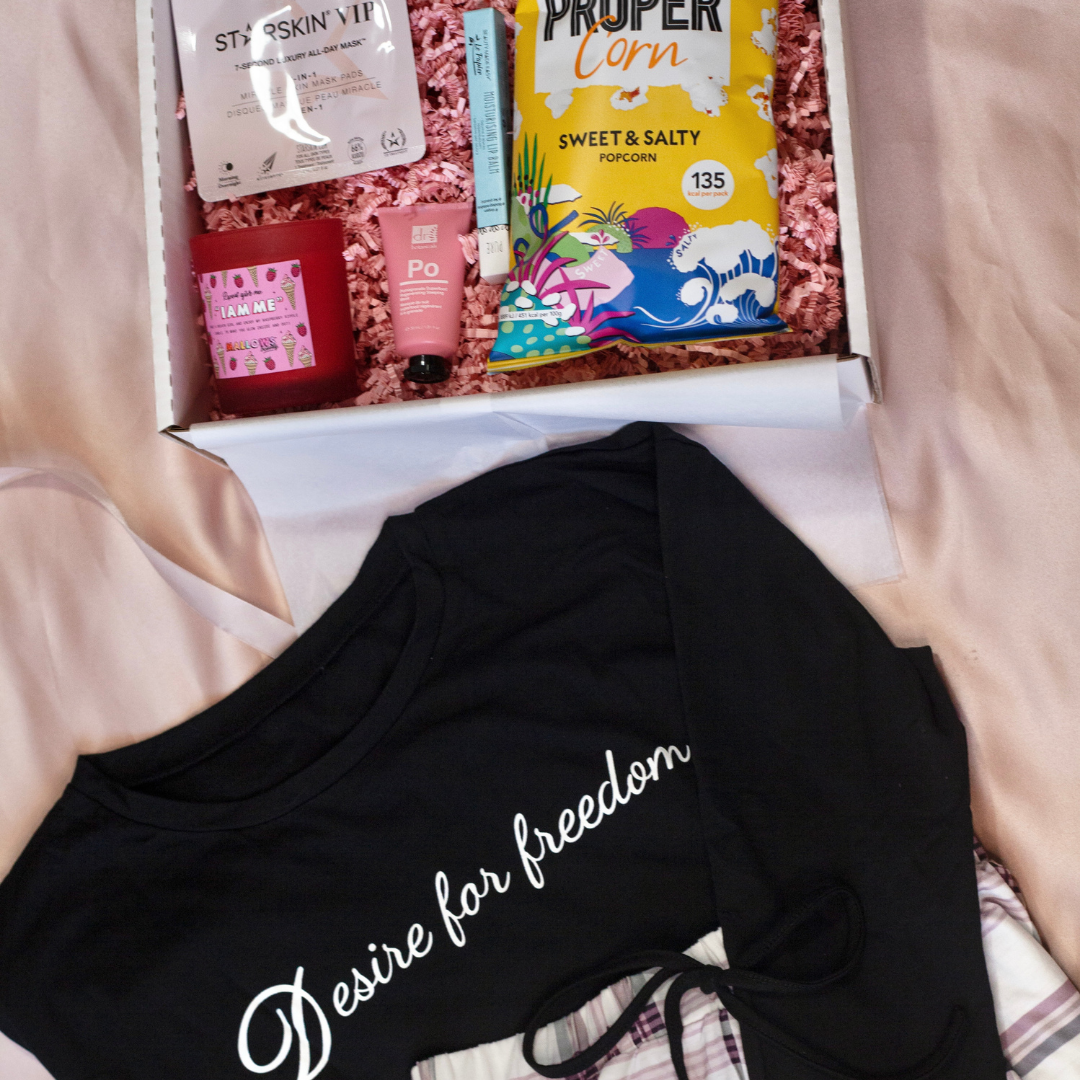 Here's Everything Included In Our January 2021 box...

 
DESIRE FOR FREEDOM pyjamas worth £24.99 - We're in full force winter and the colder nights are getting... well, even colder! So for this months pyjamas we've included a long sleeve top and matching pyjama pants to keep you warm and cosy.

We hope you love the quote 'Desire For Freedom' as much as we do because it sure feels very fitting right now!

 

Mallow Beauty Candle worth £10.00 - This months box includes an incredible candle from Mallows Beauty! You'll either receive: Raspberry or Watermelon - our two favourite scents!Each scent has a lovely quote designed to inspire you and put a smile of your face.

Light your candle, slip into your pyjamas, apply your skincare and enjoy a very relaxing evening-in!Vegan & cruelty free. 30 hour burn-time.Glass votive is recyclable.

 

Dr.Botanicals Pomegranate Superfood Regenerating Sleep Mask worth £12.00 - Satisfy your skin. Featuring an antioxidant-rich blend of natural actives, Pomegranate Superfood Regenerating Sleeping Mask is the perfect treatment for dull, thirsty skin. Using only potent and pure ingredients, this nourishing mask helps to create a brighter, healthier-looking complexion. Allow the mask to sink in and leave overnight and see the wonders in the morning!
StarSkin VIP 7-Second 7-IN-1 Face Pads worth £3.00 - Starskin have combined their coveted 7-Second Morning Masks and 7-Second Overnight Masks into one, luxury, all-day pad. The Starkskin 7-Second Luxury All Day Masks are high-performance pads that combine a 7-step skincare routine into one handy round. The dual-sided pads cleanse, prep hydrate your skin for the day ahead in the morning, and cleanse and refresh your skin at night. Super speedy yet effective skincare.
Le Papier Beauty Made Easy Moisturising Lip Balm in Pure worth £7.80 - During Winter our lips tend to become more dry and sore. So this month we decided to include an incredible lip balm to keep those chapped lips at bay! This lip balm isn't only incredible for your lips but incredible for the environment too! Made solely from up-cycled paper - you'll find no plastic in this product! Valuable jojoba oil, almond oil, vitamin E and shea butter take wonderful care of your lips.

Proper Corn Sweet and Salty Popcorn Snack worth £1.80 - Who doesn't spend Winter having endless movie nights and relaxing in-front of the TV on those chilly evenings? Because we sure do!

We've included a scrumptious bag of ready-to-eat popcorn so you can get into your cosy's, put your feet up, stick on a movie and have your own cinema evening-in!

All natural seasoning, Gluten free, Vegan.