Fancy 10% OFF Your First Box? Use Code TREATME10 (T&Cs apply)
For our summer edition July box, we've handpicked items we absolutely love and know you will too! From summer inspired pyjamas to indulgent skincare products, take time for yourself this month to recharge, unwind and to test out incredible products from incredible brands!
Take a look below for all the incredible items featured.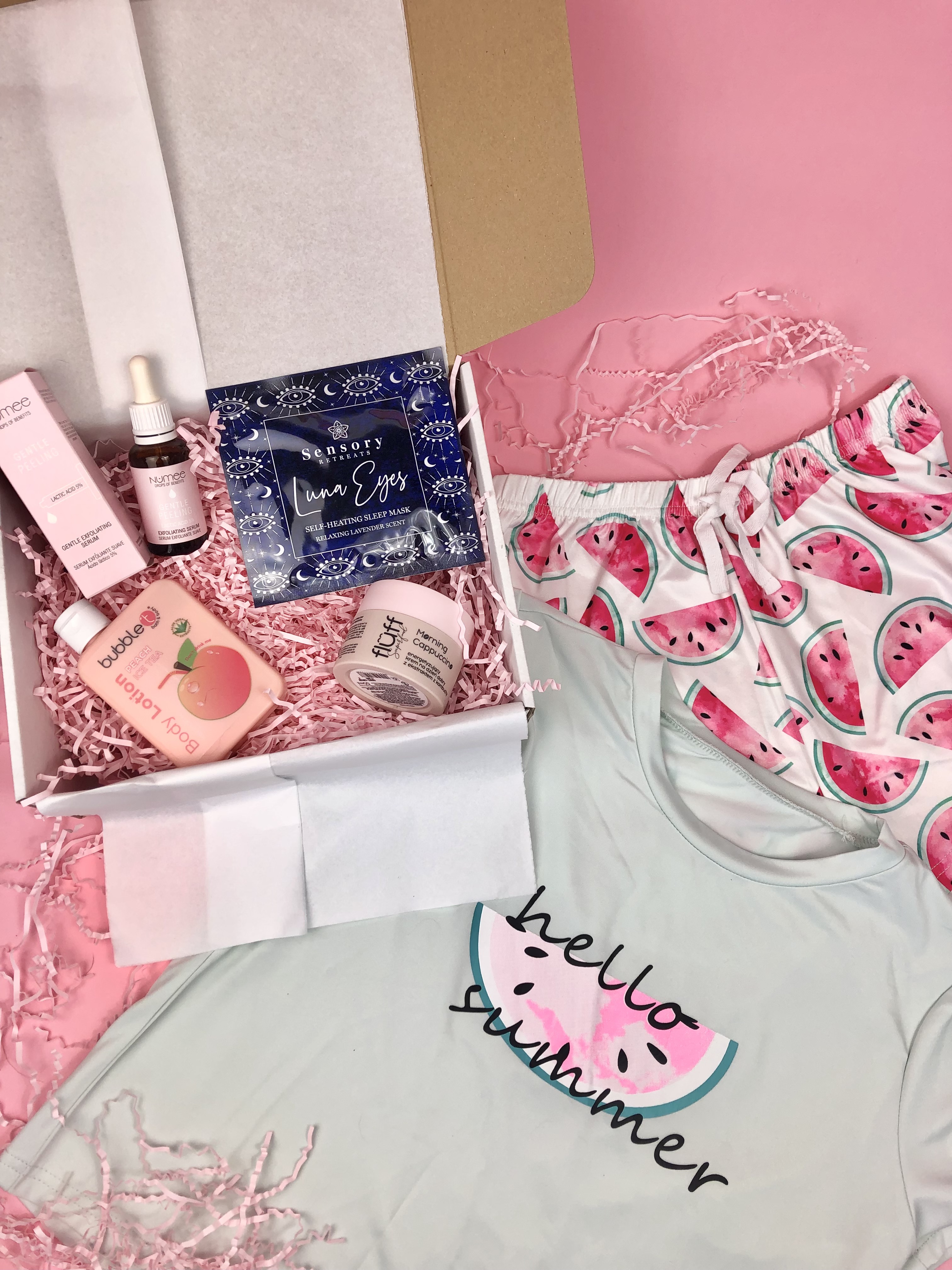 Fluff Superfood Morning Cappuccino Moisturiser | RRP £13.00
Who doesn't want glowy and luminous skin for summer?
The day cream for the face with extracts of kombucha and anti-aging coffee wakes up your skin by improving its natural tone. Optim Hyal ™ increases the level of hydration and improves the elasticity of the skin. The cream makes wrinkles less visible and adds radiance to your skin leaving it well hydrated all day long! Soft and glowy skin for you!
Vegan & natural ingredients
Numee Drops Of Benefit Gentle Peeling Lactic Acid Exfoliating Serum
 | RRP £6.00
Lactic Acid acts as a peeling agent that gently exfoliates the skin and removes dead cells. With ingredients that helps to maintain the microbiological equilibrium of the skin.
Calms actively the skin and helps to attenuates the irritation.
97% ingredients of natural origin. Vegan. Suitable for normal skin.
Bubble T Body Lotion - Peach Tea  | RRP £3.99
Nourish, hydrate and moisturise with the latest addition to our Ice tea range. Our fresh and uplifting Peach body lotion with added shea butter is Vegan friendly and SLS/Paraben free.
Moisturise your entire body with our rich hydrating formula leaving your skin soft and smooth that also helps restore natural moisture.
100% Cruelty-Free.
Sensory Retreats Luna Eyes Heated Eye Mask | RRP £3.00



Each Luna Eyes Self-Heating Sleep Mask is designed to help you naturally drift off into a deeply relaxing slumber. Use any time, any place, or anywhere you require snooze-inducing darkness. It's perfect if you're a restless sleeper or struggle with broken sleep patterns.
Just 25 minutes is all it takes to help magically melt away stress, tension, headaches, eye strain, or calm and reset an overactive mind.
Love the look of our July Summer Edition box?
Sign up today to get your hands on our next box!