Fancy 10% OFF Your First Box? Use Code TREATME10 (T&Cs apply)
We hope our May box encourages you to step-back, breathe and take some time to rejuvinate ready for the world to re-open! 
Worth over £60, take a look at the fabulous pyjamas and skincare goodies included in our May box.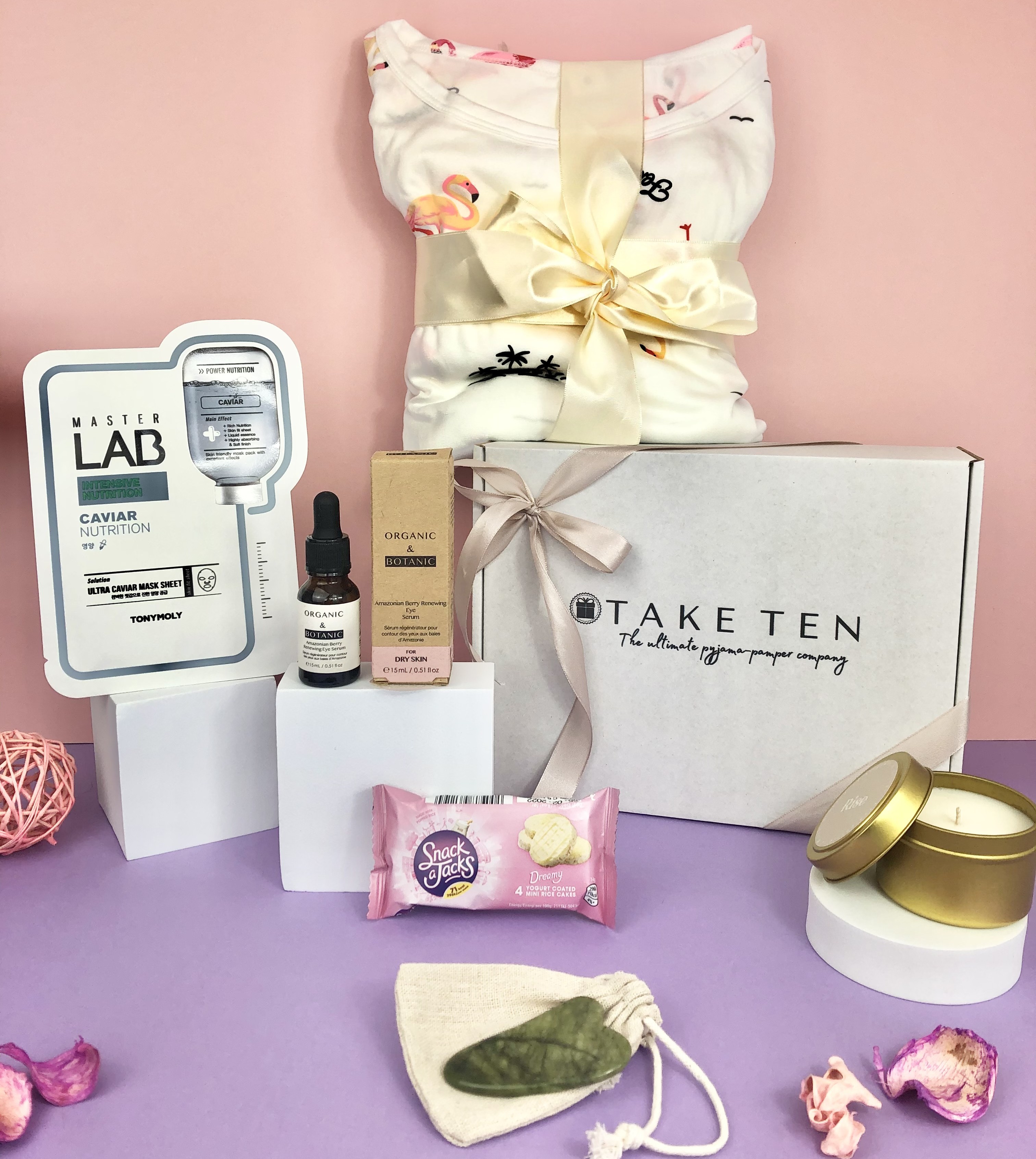 Flamingo Long Pyjama Set | RRP £23.99
Summer is just around the corner, so what better way than getting in the summer-spirit than an adorable pair of Flamingo pyjamas!
This super soft pj set is lightweight yet cosy, to keep you cool and comfortable in the evenings, at night and in the morning.
With a flattering crew neck collar and elasticated waistband on the pants for optimum comfort!
Care: Cool wash with lights at 30 degrees. Wash inside out. Leave to air dry.
Care: Cool wash at 30 degrees. Wash inside out. Leave to air dry.
Organic and Botanic Amazonian Berry Renewing Eye Serum | RRP £14.00
Say bye-bye to tired and dull eyes. Featuring a nutrient-rich blend of natural actives, Amazonian Berry Renewing Eye Serum lifts and firms the delicate eye area. Using only potent and pure ingredients, this nourishing serum brightens and revives tired eyes.
Chamomile, Cranberry and Caffeine to brighten and nourish the skin.
Derived from the Persian Silk Tree,to lift and firm the skin. With sweet Almond, Olive and Sunflower Oils to deeply hydrate.
Vegan and Cruelty-free.
Jade Gua Sha Face Tool
 | RRP £10.00
Jade Gua Sha's are a powerful tool designed to depuff, soothe and lift the skin through massage.
Proven to improve blood circulation, reduce puffiness and inflammation and aids in product absorption while relieving facial and jaw tension.
Top Tip: Leave in the fridge for a cooling sensation for morning use.
Use over your regular skincare products to help further penetrate the products into your skin.
Material: Natural Jade stone
Lovaine Soy Wax Candle - Orange & Bergamot  | RRP £7.00
100ml tins filled with fragranced soy wax, giving over 15 hours of burn time.
Is there anything better than getting cosy, doing your full skincare routine, dimming the lights and lighting a candle?
Enjoy the sweet smell of Orange and Bergamot whilst enjoying some 'me-time' in the evening.
Hand-poured in West-Wales. And are 100% Soy wax, vegan & paraben free
Tony Moly Master Lab Caviar Nutrition Face Mask Sheet | RRP £5.00



Formulated with a nourishing blend of active ingredients, the Master Lab Sheet Mask Collagen is ideal for dehydrated, lacklustre skin. This ultra-thin, natural cellulose mask clings to all facial contours, enriched with caviar to deliver nutrition, hydration and antiaging benefits, leaving your complexion youthfully-smooth and radiant.
Directions: Apply mask on clean, dry face. Leave on for 20-30 minutes. Remove mask and gently pat excess serum onto face and neck until fully absorbed.
Love the look of our May box?
You can purchase this box as a one-off for yourself or as a gift here!