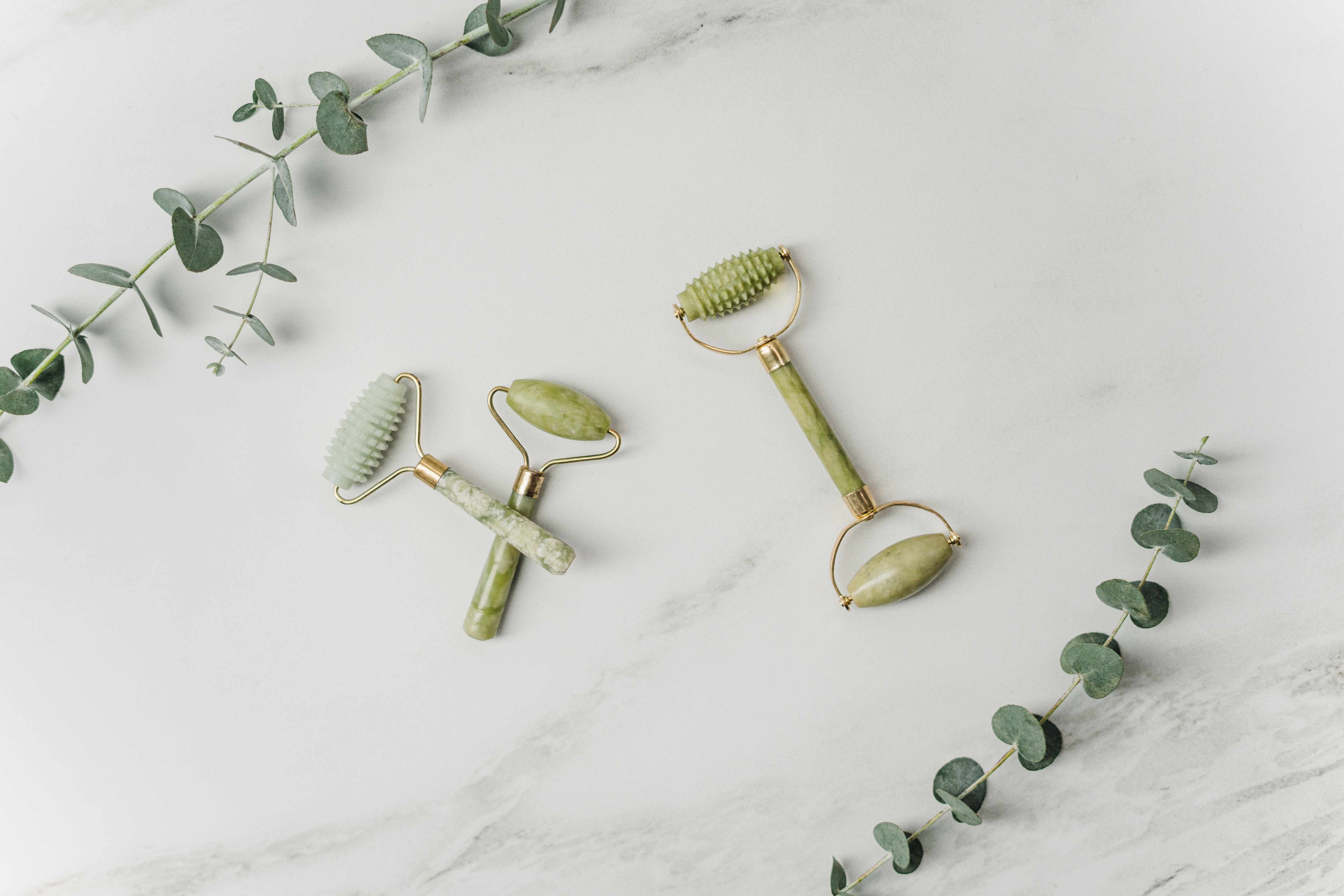 There is no doubt your social media feeds have been saturated with images of face-rollers. But how well do you truly know the benefits of the aesthetically pleasing, insta-worthy, face rollers? 
The new go-to gadget has been seen on every skincare enthusiasts, dermatologist and beauty community pages recently, and it's positive feedback and results has got the face-roller trend now on everyones radar. Promising to de-puff, firm and increase circulation there is no wonder why this is something we're all wanting to implement into our daily skincare routine.
Recent articles have stated this Chinese holistic skincare tool was used by ancient Chinese princesses as a secret tool to get a radiant and youthful complexion, and is still a popular practise around Asia. The small (but mighty effective tool) has now finally been discovered by many all over the world for its immediate results. Designed from natural jade stone, this little contraption is a known to promote healthy, glowing skin without the use of chemicals.
The Benefits of Using A Natural Crystal Face Roller?
Stimulating Blood Flow - Face rollers promote better blood circulation leading to a firmer and more plump collection. Perfect for those who regularly feel their skin is a little lifeless and flat.
De-Puffs and Reduces Inflammation - If you suffer with puffiness under the eyes or around the mouth, the smaller end of the face roller makes it perfect for those harder to reach areas.
Reduces Redness - Natural crystals have been said to reduce redness on the face. Redness often occurs on the cheeks and around the t-zone. The natural jade rock is said to reduce redness after just one use.
Delays Wrinkles and Creases - The face roller promotes blood circulation which will improve elasticity and skin tightening which will delay the process of wrinkles and creases.
Promotes Healthy Glowing Skin - Natural crystals have been proven to promote healthy, glowing skin.
Cools and Soothes - Jade face rollers are cold to touch, but it is recommended for even better results to store your roller in the fridge for a more effective result. The coolness will help sooth tight or tired skin leaving a refreshing feeling on your face.
Distributing Skincare Products - although the face roller is designed to be used alone, many have found the face roller to work wonders for distributing your creams and serums around your face. Many also use to roll over face masks to encourage your skin to soak up as much of the face mask products as possible.
Improves Mood - You be a little apprehensive to the idea a face-roller can improve mood, but many who use the face-roller once they've woken up have said having a mini facial massage gives you a calming and anxiety-reducing feeling... resulting in a better mood.
Reduces Toxins - A face-roller offers the same technique as lymphatic drainage, which is used all over the world to cleanse the body of any toxins.



How To Use A Face Roller:
It is best to store your face roller in the refrigerator to keep the jade stone cool. It is suggested to use your face roller after you've just woken up and before you go to sleep each day, and it only will only take 3-5 minutes for results.
 
Either use on a bare face or over creams and serums for a smoother roll.
Work from bottom to top. Start over your neck and décolletage and roll upwards towards your chin. For best results don't roll back and forth, but instead roll only in an upwards motion.
From your cheeks up to your temple, roll up.
Around your chin, mouth, nose and eyebrows, use the smaller end of the face roller so you can get to all the harder to reach areas.
Run the face roller over your eyebrows from the centre of your face out towards your temples. This is meant to relief any head tension and small headaches.
Run the face roller upwards over your forehead starting from one side to the other.
Click here to watch a video demonstration for the most effective results.